PJ - Projection Jockey
What is a PJ?
The PJ - Projection Jockey does with film what the DJ does with sound.
How does it work?
Using found and self made Super8 clips and loops to create a unique visual ambiance.
The clips and loops are being projected with several projectors at the same time.
The images go side by side or into each other. Contents are being harmonized with the
music that's being played by the DJ.
PJ-ing is interactive with and complementary to the music.
Can I get you as PJ for my event?
Sure.
Basically 220V power and a some space near the DJ is needed.
No screen is necessary, a white wall will do. The way of projection can be adapted
to your location. Depending on the size of the event it is recommendable to have two PJs.
Get in touch for booking or further information: david.pfluger@saeure.ch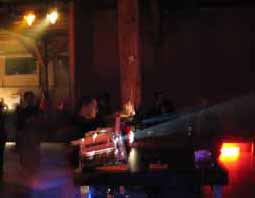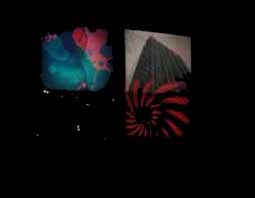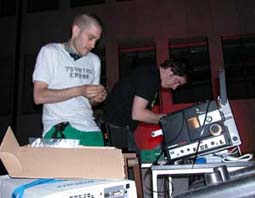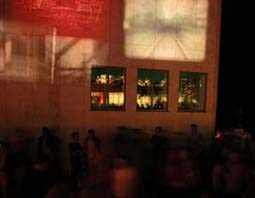 Events:

PJ Visuals für Strom, Nike Neeke und DJ Experience at Elaine Club, Basel 25.05.2012

For Oscillator Fumes (USA) sound performance, Plattfon Basel, 06.11.11

Party gegen Rassismus, Badhüs.li, Basel, 16.10.10

Hausfest Lichtstrasse 9, Basel, 30.04.10

Murtenstrasse Squat, Bern, 05.04.08

PJ/G.A.M.E.S. Villa Rosenau, Basel, 10.02.07

PJ/G.A.M.E.S. 8. Dresdner Schmalfilmtage, Dresden (D), 25.-27.01.07

K-set event at Inzest bar, Kalkbreite squat, Zürich, 27.09.06

Dreispitz Monopoly Sounds Dreispitzareal, Basel 27.08.06

Legal Fanzine Benefiz Rohstofflager, Zürich, 23.07.05

Unifest, Basel, 24.06.05

electroboy event, Dachkantine Zürich, 11.12.04

Zollfest, n/t-areal, Basel, 21.08.04

Unifest, Basel, 18.06.04

ccc IV - Contemporary Culture Convention, Reithalle Bern, 13.-15.05.04

Rough and Ready Electronics. With experimental electronic music. Kunstraum Walchenturm Zürich, 28.02.04

Final event Squat Sihlpapier, Zürich 14.03.03

With live Jazz, Josefstrasse, Zürich 05.07.03

With HC Techno, Squat Elsie 11, Basel 14.03.03